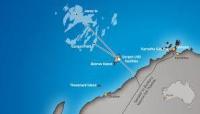 Chevron Corporation's Australian subsidiaries have signed a binding Sales and Purchase Agreement (SPA) with SK LNG Trading Pte Ltd (SK). Under the SPA, SK LNG Trading, which is part of a industrial conglomerate in South Korea, will receive 4.15 million tons of LNG over a five-year period starting in 2017.
During the time of this agreement, over 75 percent of Chevron's equity LNG from Gorgon will be committed to customers in Asia.
"This agreement is an important step in the commercialization of Chevron's significant natural gas holdings in Australia," said Pierre Breber, president, Chevron Gas and Midstream. "As Chevron continues to grow into one of the world's largest LNG suppliers, this SPA represents further progress and diversification of our sales portfolio."
"We are pleased with the opportunity to supply LNG to SK and look forward to building lasting relationships with our customers in the region as the Gorgon and Wheatstone projects move into operations," said Roy Krzywosinski, managing director, Chevron Australia. "SK joins our existing strong LNG customer base and demonstrates the Chevron-led Gorgon and Wheatstone projects are well-placed to meet the growing demand for natural gas in the Asia-Pacific region."