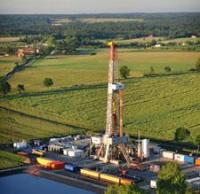 3Legs Resources has successfully completed the multi-stage stimulation for Lublewo LEP-1ST1H lateral well, as planned. Stimulation comprised 25 stages using a high quality white sand proppant; 7.7 million lbs of proppant delivered over the 25 stages.
The Company believes this is the largest multi-stage shale stimulation executed to date in Poland. The well is now being prepared for clean-up and testing, due to commence shortly.
Operations update
The multi-stage stimulation of the Lublewo LEP-1ST1H lateral well was commenced on 15 July and has now been successfully completed, in accordance with plan. The programme comprised 25 stages and was executed across 1,469 metres out of the available 1,495 metres of lateral section. This compares with the Lebien LE-2H well, the last lateral well drilled by 3Legs which also targeted the Sasino shale horizon, where a 1,000 metre lateral section was stimulated in 2011 with a 13-stage programme.