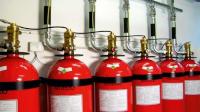 3M, a science-based company fuelled by innovation, will showcase 3M™ Novec™ 1230 Fire Protection Fluid at ADIPEC that will be held from 7-10 November. Novec™ 1230 fluid is a revolutionary clean fire suppression agent that reduces the climate impact of a fire protection system by more than 99%.
As a clean agent Novec™ 1230 fluid is electrically non-conductive and does not leave any residue when it evaporates resulting in no damage towards sensitive electronics or other valued assets.
According to a recent research report by Transparency Market Research, the global fire protection systems market for oil and gas is forecasted to reach USD 8.93 billion by the end of 2023.
"Rising oil and gas exploration activities is one of the core drivers of fire protection systems in the industry," says Martin Parsons, Regional Business Leader, Electronics and Energy Business Group, 3M. "Stringent regulations and technological advancements from across the world are also key drivers. Today's clean agent solutions should not just be environmentally sustainable, but should help protect businesses from incurring costs, potentially in the millions, that result from downtime when repairing or replacing equipment."
In terms of the Gulf, Frost & Sullivan revealed that the region's fire-safety systems market is estimated to hit USD 3.15 billion by 2020 with an annual growth rate of 15% primarily due to industrial and commercial investments. Sectors such as retail, institutional and public buildings as well as infrastructure all contribute to the increasing demand.
In November of 2015, 197 parties to the Montreal Protocol on substances that deplete the ozone layer agreed on a "Dubai Pathway" for controlling climate-change-inducing hydro fluorocarbons (HFCs) such as FM-200, a path similar to that taken by halon. "Countries within the GCC region are all moving towards sustainability and innovation," says Parsons. "We are confident that once key stakeholders in the region understand the global and regional policy impacting the fire suppression market and that sustainable choices are available, specifiers and end-users will avoid the future cost inherent in non-sustainable technology."