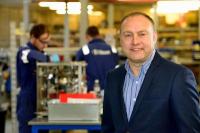 Graham Hacon, founder and CEO of 3sun Group, is set to present at a BGF (Business Growth Fund) event next week.
In March last year, 3sun Group, secured a £10m investment from BGF following six years of considerable growth and expansion. The investment will support 3sun Group's plans to accelerate expansion in its Great Yarmouth headquarters and advance further opportunities in the UK and Europe.
The event, which will take place on Monday 7 July, in Norwich, is the first event BGF has hosted in East Anglia that is targeted at business owners. During his presentation, Mr. Hacon will discuss the significant growth 3sun Group has experienced and how the funding received from BGF will benefit the company.