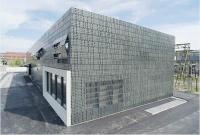 ABB has achieved a significant breakthrough in gas insulated switchgear (GIS) technology by commissioning the world's first high- and medium-voltage GIS bays with a new eco-efficient gas mixture as an alternative to the widely used greenhouse gas SF₆.
A switchgear combines electrical switches, fuses or circuit breakers to control, protect and isolate electrical equipment in a power network. Switchgear is installed throughout the power value chain from generation through to transmission, distribution and consumption, across voltage levels. High and medium voltage switchgear is generally installed in power transmission and distribution, helping to ensure grid reliability, efficiency and safety.
ABB's new eco-efficient switchgear uses an SF6 alternative gas mixture as the insulation medium and additionally as switching medium for the high voltage switchgear. The fluoroketone based SF6 alternative gas mixture is a chemical compound developed for switchgear applications in collaboration with 3M. Global warming potential (GWP) of the new gas mixture is almost 100 percent lower than that of SF6, without any compromise on equipment quality and reliability. This can result in lowering CO₂ equivalent emissions of the GIS by half, through the lifecycle of the equipment – the other half being attributable to raw materials, manufacturing and thermal losses.