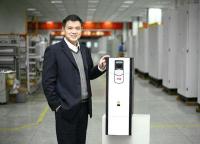 The ten millionth ABB low voltage drive rolled off the production line at ABB's Beijing factory in November. The ten millionth drive is going to Wuhan Guide Electric Co., Ltd. in China, a system integrator manufacturing electric control systems for port cranes.
"The outstanding direct torque control (DTC) motor control technology and built-in crane control software of ABB's industrial drives help us to maximize crane performance. For our customers – the ports – ABB industrial drives mean improved safety, high availability, and high total efficiency, resulting in lower energy costs," says Mr. Li Xiang, CTO of Wuhan Guide Electric Group Co., Ltd.
Drive number 10 million is an ACS880 industrial drive, part of ABB's all-compatible drives portfolio. Compatible with virtually all types of processes, motors, automation systems and users, they are designed to tackle any motor-driven application in any industry, whatever the power range. The innovation behind all-compatibility is the new drive architecture, which simplifies operation, optimizes energy efficiency and helps maximize process output. The ACS880 series consists of single drives, multidrives and drive modules.