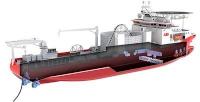 ABB has ordered the world's most advanced cable-laying vessel to boost the capacity of its submarine cable operations while achieving greater efficiency and precision. The new ship will be custom-built to ABB specifications and measure approximately 140 by 30 meters, will be constructed at Kleven shipyard in Norway. Delivery is expected in 2017.
"This next-generation vessel incorporating state-of-the-art ABB technologies will be a key differentiator for our high-voltage cable business, enhancing flexibility and execution ability," said Claudio Facchin, president of ABB's Power Systems division. "It will also improve operational efficiency and customer focus, supporting profitable growth in line with our Next Level strategy."
The new ship will deploy many of ABB's own leading marine technologies. The award-winning Onboard DC Grid and power distribution solution, for instance, will use a single DC circuit for ship propulsion to reduce power consumption. The vessel will set new standards for reliability and accuracy and will be equipped with roll-reduction tanks and the subsea operations will be executed and monitored by a remotely operated vehicle using cameras and sonar, avoiding the need for divers.