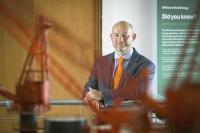 Young oil and gas professionals are set to come together for the industry's first-ever inter-disciplinary networking event, which will focus on the non-technical skills needed to succeed in the field.
With hundreds of students and young engineers coming to Aberdeen every year, three of the major professional societies and institutes have come together to create a joint event that will allow young members, including students and young professionals, to meet and interact in a way that has not been done before.
The event will be hosted by Young Professionals from the Aberdeen societies and chapters such as the Society of Petroleum Engineers (SPE), Institution of Chemical Engineers (IChemE) and the Institution of Mechanical Engineers (IMechE). It will offer students, graduates and young professionals an excellent opportunity to meet and network across disciplines.