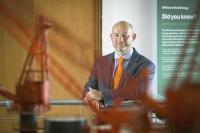 A Society of Petroleum Engineers (SPE) event next week is set to shake up the oil and gas industry by focusing for the first time on critical HR, diversity and inclusion issues.
The 'Breaking the Cycle of Discrimination – workplace challenges in the oil and gas industry' workshop will analyse the issues surrounding workplace interaction and team dynamics, set in the context of the international, multicultural oil and gas sector.
SPE Aberdeen Chairman Ross Lowdon said: "This workshop is the first of its kind for the industry and we will strive to ensure that it produces meaningful discussion and outcomes which will address the issues of workforce and talent retention.
"This event is exclusively structured to be a small circle, closed door forum, in which we expect to see a genuine, open and constructive dialogue take place. No media will be present at the event due to the confidentiality of what will be discussed, however we will share the workshop findings so that, as an industry, we can collaborate and act upon these outcomes.