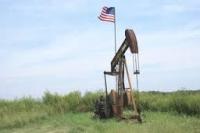 Abilene Oil and Gas Limited is pleased to announce the results from the Claflin 1-35 (Homolka) well in the CKU project area. This well is the first well of the current 8 well program.
The well has been drilled to a total depth (TD) of 3372 feet. The well is going to be completed as an Arbuckle oil producer following recovery of oil from that zone on a drill stem test (DST). Oil production rates will be confirmed once 30 days of production have been achieved.
As well gas was recovered from the Lansing B zone, which can be produced at a later date.
The Lodestone JV has a 30% working interest (WI) in this well, so the Abilene WI is 14.7%.
The well is located approximately 750m from the Claflin 1-35 well (Burmeister) (drilled in December 2014) but has been drilled on a separate structural feature.