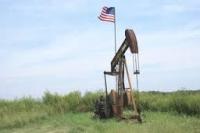 Abilene Oil and Gas announces the following operational update.
CKU Project: Woelk #1-19 Well.
This well has been drilled to a total depth of 3303 feet and results show the potential for the well to be an economic oil producer.
Evaluation of the well during the drilling phase indicates the potential for the well to be completed as an Arbuckle producer with possible secondary reserves in the Lansing/Kansas City Interval. Accordingly the Central Kansas Uplift (CKU) joint venture operator has recommended that the well be completed for future production. The current operation is running production casing.
This well completed the initial four well program in the CKU project.