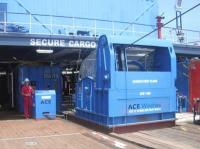 ACE Winches hasjoined the trade mission organised by Scottish Development International to West Africa.
The mission travelled initially to Ghana – visiting Accra, before heading to Lagos, Nigeria to attend the 20th Offshore West Africa conference.
The visit to date has provided ACE Winches and other participating companies with the opportunity to visit a range of companies and government representatives to gain first-hand experience of the markets in the region. The main objective has been to improve market awareness, meet existing and potential customers, agents or joint venture partners and to access a wide range of experts in all aspects of doing business in Ghana.