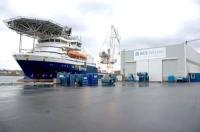 ACE Winches Norge AS, the Norwegian division of the internationally recognised ACE Winches, turns five this April.
Over the past five years ACE Winches has constantly monitored the needs of the Scandinavian market and client base, in order to satisfy supply and demand. During 2014 the company relocated to quayside facilities in the sheltered straits of Karmsundet, which is well positioned for vessels travelling between Bergen and Stavanger.
To further develop the ACE Winches' Norwegian reach and maintain a stronger presence internationally it was decided to relocate the Dusavik office. This has resulted in a planned move to Forus, Stavanger, an industrial district, home to many of the market leaders.
ACE Winches is committed to providing exceptional service and project performance with complete deck machinery solutions for the offshore oil and gas industry. Bespoke winching solutions, specialist wire rope spooling services, refurbishment services and training, in addition to hire fleet equipment and personnel contribute to an enviable list of case studies over the past five years.