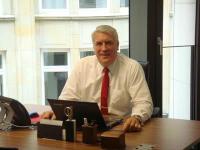 AdvanFort Company has opened an office in Hamburg, Germany, as part of its growing and far-reaching customer service network, particularly for clients in Europe.
"AdvanFort has made a substantial investment in the future of our clients in Germany and the rest of Northern Europe by inaugurating our office in Hamburg, the maritime crossroad in that region, thus ensuring that we are closer to our customers," said company President William H. Watson.
"Our move into Hamburg comes as we have named Axel Tuetken, former Maersk Line country president in Japan, as our Vice President for Sales and Business Development."
Watson pointed out that one big benefit offered by the Hamburg office is an improved service level for AdvanFort's growing customer base, ensuring that there is no major time difference for customers in Europe, as well as the fact that real-time face-to-face meetings are now possible to discuss critical issues.