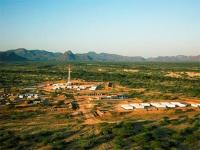 Africa Oil Corp. is pleased to provide the following update on operations in East Africa.
Progress is being made on the decision regarding the route of the export pipeline with the Technical Consultant having submitted its final feasibility report to the Governments of Uganda and Kenya. It is expected that the Governments will shortly agree on the preferred routing which will enable the next phase of work on the pipeline to progress.
Kenya operations have been focused on the South Lokichar Blocks 10BB and 13T where appraisal drilling and Extended Well Tests (EWT) are continuing. In May, the Amosing EWT commenced and five reservoir zones in the field were tested across two wells, being separately produced in one well while pressure responses were measured in the other well. Production from all five zones was at a combined average constrained rate of 4,300 bopd under natural flow conditions and a cumulative volume of 30,000 barrels of oil was produced into storage.
The pressure data supports significant connected oil volumes and confirms lateral reservoir continuity between the wells which is positive for the future development of the Amosing field. Having completed the production testing, preparations are now underway for water injection tests into each of the five completed reservoir zones in Amosing-2A. These tests will validate the viability of water flood reservoir management and the oil recovery assumptions for the Field Development Plan.