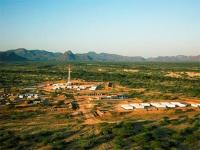 Africa Oil Corp. provides the following update on the appraisal program in the South Lokichar Basin.
In Kenya, the extensive appraisal program in the South Lokichar Basin continues. The Amosing -1 and Amosing -2 wells have been completed in five zones with hydraulically controlled completions that permit independent tests of selected intervals without well intervention in preparation for an Extended Well Test (EWT) of the field. Initial rig-less flow testing during clean-up at a combined maximum rate of 5,600 and 6,000 bopd respectively exceeded expectations, demonstrating high quality reservoir sands which flowed 31 to 38 degree API dry oil under natural conditions.
The EWT involves production and water injection testing to enable dynamic flow characterisation between wells in the Amosing stacked oil reservoirs. The full EWT will commence shortly and results are expected over the next few months. The Amosing-4 appraisal well was drilled on the flank of the field and successfully encountered 27 metres of net oil pay in thick upper reservoir zones proving the significant down-dip extent of the field.