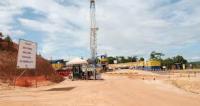 Alvopetro Energy Ltd. is pleased to provide an operational update, our updated 2015 capital plan, announce our fourth quarter 2014 and year-end 2014 financial results and the filing of our annual information form.
Operational Update
We recently tested the first and second intervals of our 197(2) well. During the 72 hour test of each interval, the well flowed natural gas, on an unstimulated basis, at an average rate of 101,000 m3/d (3.6 MMcfpd or 600 boepd) from the first interval and 53,000 m3/d (1.9 MMcfpd or 310 boepd) from the second interval.
The testing and evaluation of this well continues. We are very pleased with the results to date indicating high deliverability of the 197(2) well with the potential to add meaningful future reserves and production. The initial pressure transient analysis of the first interval alone forecasts potential post-stimulation rates at 261,000 m3/d (9.2 MMcfpd or 1,530 boepd) after three months of continuous production and 125,000 m3/d (4.4 MMcfpd or 730 boepd) after one year of continuous production, in both instances at 1,000 psi sandface pressure.