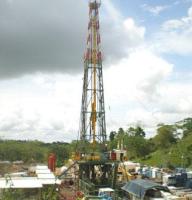 Amerisur Resources is pleased to announce an update on the well Platanillo-14 in the Platanillo Field, Colombia, the 9th new well (plus 3 successful sidetracks) of the current drilling campaign.
The well has been successfully drilled, on time and under budget to a total depth of 9,333ft MD, achieving an offset of 3,646ft to the south west of Platform 9S. The reservoir section was logged and initial log analysis indicates the presence of 77ft gross, 30ft net oil column in the U sand formation, using Logging While Drilling (LWD) tools, in line with the pre-drill prognosis.
LWD systems, while offering significant operational advantages are prone to underestimating oil pay, due to a lower penetration of the signal compared with wire line conveyed tools. The Company therefore considers this analysis to be very conservative. As predicted by Amerisur's seismic attributes model, the N sand was not well developed at this position.