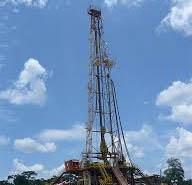 Amerisur Resources is pleased to provide an update on well Loto-2 in the CPO-5 contract area, Colombia.
Well Loto-2 has been spudded with rig Tuscany 109 in the CPO-5 block, located in the eastern Llanos area of Colombia.
The well is currently at a depth of 2,024ft, having drilled 17.1/2'hole to the 13.3/8'casing point.
The well is expected to take approximately 20 days to drill to total depth of 10,321ft, with logging and testing thereafter.
John Wardle, CEO of Amerisur commented,'CPO-5 is a very prospective block, where Amerisur holds a 30% working interest through a wholly owned subsidiary. The block is on trend with a number of important Llanos discoveries. Additionally we hold good quality 3D data over large areas of the block. These data are currently being processed and interpreted and initial analysis is very favourable. This 3D analysis, together with the results of the well currently drilling will allow an estimate of the full potential of the Loto structure. I look forward to the results from Loto-2, after which further wells will be drilled on this structure and potentially others identified by the 3D seismic.