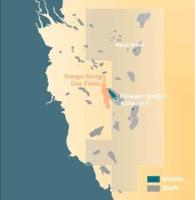 Aminex is pleased to notify shareholders that the Tanzanian Petroleum Development Corporation ('TPDC'), through its contractors, has now begun constructing the Skid Metering Unit within the boundaries of the Kiliwani North Development Licence ('KNDL') and have completed laying pipe to the KNDL boundary.
Once construction is complete the Kiliwani North 1 well ('KN-1') will be connected to the new Songo Songo processing plant where the gas, once produced, will be processed prior to being transported and sold in the new Dar es Salaam to Mnazi Bay pipeline.
The KNDL joint venture has been notified by TPDC that pressure testing of the pipeline is expected to commence during the first half of 2015 and the final construction of equipment to connect is expected within this timeframe in order for commissioning to occur.