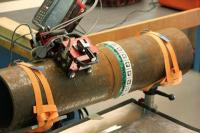 Applus RTD will open up a base in Straume, Bergen following the demand for its non-destructive testing (NDT) services in the region.
The new office and test facility, which will be operational in October this year, will serve the local market both onshore and offshore. It will provide in-house and on-site NDT, metallurgic field work and a range of inspection services including rig, paint, derrick and hull inspection.
The new base will staff up to 24 employees, as Applus RTD plans to recruit locally.
Eirik Bjorheim, Applus RTD Norway manager said: "It was an obvious step for us to create a strategic growth plan for Norway in order to meet the demand for our services and underline our commitment to the Norwegian energy sector. With the Bergen office due to open in the next few months, we will now be able to provide on-site support for our existing client base.