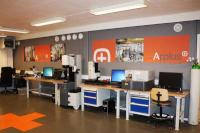 Applus+ Laboratories, the testing and Certification division of Applus+ Group, is stepping up its support of the Norwegian oil and gas sector when it opens its new facility in Bryne, Norway.
Designed to provide industry-leading mechanical, metallurgy and corrosion testing services to the global oil and gas industry, the new facility will see Applus+ Laboratories complementing its destructive testing with the addition of integrity technology services provided by Applus RTD.
The facility, which has already been granted the internationally recognized NS-EN ISO 17025 accreditation, is strategically located in the heart of Stavanger's oil and gas hub and is another milestone for Applus+ as it positions the company as a global leader in destructive and non-destructive material testing.