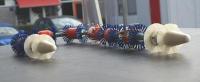 Applus RTD will showcase its innovative RTD DTI Trekscan pipeline inspection tool at the International Pipeline Conference (IPC) in Calgary, 29 September – 3 October 2014 at booth #125.
The RTD DTI Trekscan product is being led by Applus RTD's global product line manager, Mark Slaughter, a leader with over 25 years in the pipeline inspection industry.
It is the first free-floating inspection tool designed to traverse back-to-back one-dimensional (1D) bends, with an optimum speed of one meter per second (2.2 mph). It can run in pipelines previously considered to be 'unpiggable'.