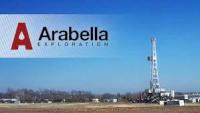 Arabella Exploration, Inc. announced a Peak 30 Day Production Rate for its Emily Bell #1H of 482 BOE/Day.
The Emily Bell #1H continues to flow naturally up its 7 5/8th inch casing. Arabella expects that within 30 to 60 days it will put the well on artificial lift and produce up tubing, at which time it expects to see a further boost in production.
Arabella further announced that the Emily Bell #1H was drilled and completed for approximately 8% below its projected cost.