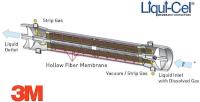 Artes Ingegneria, an Engineering and Construction company in the water business for the oil and gas industry, has been qualified by 3M for the implementation of Membrane Deaeration (MDA) in the offshore oil and gas projects.
The Separations and Purification Sciences Division of 3M – 90,000-people multinational company producing among others adhesives, abrasives, laminates, fire protection, electronic materials, medical products, car-care products and optical films – manufactures the microporous membrane contactor called Liqui-Cel, provider of membranes for degassing of liquids.
After years of laboratory and pilot tests, the membrane degassing process is now mature for industrial application in the harshest environments in the world, as those implied by the offshore Oil producing industry.
Artes Ingegneria is offering its Clients the support to investigate, test, design, manufacture, commissioning and start-up water-injection systems based upon Membrane Deaeration (MDA).