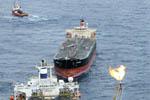 AWE Limited, the Operator of Permits L1/L2 in the Perth Basin, Western Australia, advises that wireline log and pressure data from the Waitsia-1 appraisal well confirm a 95m gross gas column across three conventional reservoir intervals in the Waitsia field, confirming initial results from the discovery well (Senecio-3) and identifying substantial upside potential.
The well was drilled to a revised total depth of 3,507m Measured Depth below Rotary Table (MDRT), having drilled successfully through the full prospective section and into the Holmwood Shale. The primary and secondary targets were penetrated at depths close to prognosis with good gas shows being encountered in the Kingia, High Cliff and Dongara Sandstones. Gas shows were also observed in the Irwin River Coal Measures and the Carynginia Shale.
A Gas-Water Contact (GWC) for the Waitsia field was established at 3,350m total vertical depth subsea (3,432m MDRT) which is approximately 350m below the top of the mapped structure. Wireline pressure data indicate that the three good quality reservoir intervals in the Kingia and High Cliff Sandstones are likely to be continuous with equivalent zones in the Senecio-3 well. Overall reservoir quality appears to be better than Senecio-3 with considerable thickening of the High Cliff Sandstone pay interval. Conventional net gas pay for the well is interpreted to be 18m with average porosity of 18%. Preliminary compositional analysis indicates CO2 levels of <4%, which is consistent with Senecio-3.