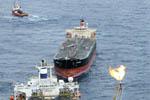 AWE Limited, the Operator of Permits L1/L2 in the Perth Basin, Western Australia, advises that the Waitsia-1 appraisal well reached a Total Depth (TD) of 3,507m Measured Depth below Rotary Table (MDRT) at 08:00 hours (8.00am) AWST on 8 June 2015 and preparations are now underway to commence a wireline logging program.
The Holmwood Shale was intersected at 3,490m MDRT, 10m high to prognosis, and total depth was achieved 17m into the Holmwood Shale. Wireline logs will be run over a number of intervals, including the Dongara and Kingia Sandstones.
The Waitsia-1 well was spudded on 14 May 2015 and is forecast to take approximately six weeks in total to complete. The well is designed to further test the gas potential of the Waitsia Field, comprising primary targets in the deep conventional formations in the Kingia and High Cliff Sandstones.