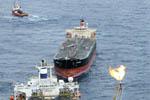 AWE Limited has confirmed a preliminary maximum gas flow rate of 18.5 million standard cubic feet per day (mmscf/d) from the flow testing program at the Senecio-3 well, in the onshore Perth Basin, Western Australia.
The second stage of the testing program is focused on the primary target in the upper Kingia Sandstone.
AWE Ltd Managing Director, Bruce Clement, said the initial flow test results from the primary Kingia target confirmed the commercial potential of the recently discovered Waitsia gas field.
'This is an excellent result for AWE, the local community and Western Australia. The initial flow test results confirm the Kingia Sandstone is a conventional gas reservoir capable of producing commercial flow rates of gas. It has also confirmed the potential for an exciting new gas play in the North Perth Basin.