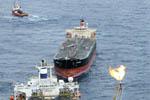 AWE Limited as Operator of PMP 38158 advises that the Pateke-4H subsea tie-back and installation project commenced on 5 March with the arrival of the DOF Subsea Diving Support Vessel, the 'Skandi Singapore', at the Tui area oil fields located approximately 50 kilometres off the coast of Taranaki, New Zealand.
The project involves the installation and commissioning of subsea pipelines, manifolds and ancillary support equipment, in water depths of about 124 metres, to connect the Pateke-4H development well to the Tui field gathering system.
The subsea tie-back and installation project will coincide with a two week planned shut down of the FPSO 'Umuroa' for inspection and maintenance activity. First production from Pateke-4H is expected in April.