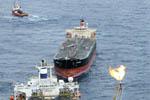 AWE Limited advises that the Operator of the BassGas joint Venture in permit T/L1, Origin Energy, has confirmed that the Yolla-6 development well has reached a Total Depth of 3,653m Measured Depth below Rotary Table (MDRT).
Yolla-6 successfully intersected the primary reservoir targets located in the Paleocene EVCM sands ('2755', '2807' and '2973'). The well has been logged and preparations are in place to case and complete the well before being commissioned for production and tied-in to the Yolla facility.
The well was drilled using the West Telesto jack up rig, which will move back to complete drilling of the Yolla-5 well at the conclusion of Yolla-6 operations. The Yolla-5 and Yolla-6 development wells are being batch drilled and represent Stage 2 of the BassGas Mid Life Enhancement (MLE) project.