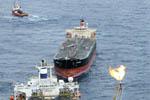 AWE Limited reports that as at 06:00 hours AWST today the Drover-1 exploration well was drilling ahead at a measured depth of 2,070 metres in an 8 ½ inch hole.
Two sections of core were cut from 1,698 metres to 1,720 metres, recovering a total of 21.5 metres of the Kockatea Shale formation.
The 8 ½ inch hole will be drilled to a planned total depth of 2,400 metres to evaluate the deeper objectives comprising the Carynginia Shale formations, the Irwin River Coal Measures and the High Cliff Sandstone.