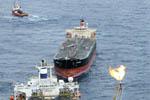 AWE Limited, the Operator of Permits L1/L2 in the Perth Basin, Western Australia, advises that the Waitsia-2 appraisal well commenced drilling operations at 18:00 hours AWST on Sunday, 28 June 2015.
As at 06:00 hours AWST today, the well was at 297m Measured Depth below Rotary Table in a 17 ½ inch hole. The well will be drilled to a planned section depth of 1,295m MDRT before installation of the 13 3/8 inch surface casing.
The Waitsia-2 well will be drilled to a planned maximum total depth of 3,803m MDRT and is forecast to take approximately seven weeks in total to complete. The well is designed to test the gas potential in the southern extension of the Waitsia Field, comprising primary targets in the deep conventional formations in the Kingia and High Cliff Sandstones.
If the results are positive, AWE may undertake a flow test of the Waitsia-2 well and the well may be completed as a production well for a potential future field development. The approved work program for the Waitsia-2 appraisal well does not include hydraulic fracture stimulation.