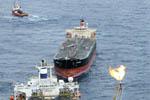 Australia's AWE Limited announced its full year results for the 2014-15 financial year. The Company reported annual production of 5.1 million barrels of oil equivalent (MMboe), sales revenue of $204.96 million (AUD 284 million) and a statutory net loss after tax of $166.01 million (AUD 230 million), which included $114.04 million (AUD 158 million) of non-cash impairments (after tax).
After adjusting for non-recurring items, AWE's underlying net loss after tax was $37.52 million (AUD 52 million). Managing Director, Bruce Clement, said: "AWE had another year of significant achievements and is managing the negative impact of low oil prices on the financial results. Production of 5.1 MMboe was at the top end of guidance and development and exploration expenditure was within the guidance range, reflecting our continued focus on cost control. Sales revenue was only 2 percent below guidance, which was a substantial achievement given the lower realized average oil price during the year."
"At year end, AWE had significantly increased its net 2P Reserves by 23 MMboe, or 25 percent up over the previous year, to 114 MMboe. This equates to more than 22 years of production at current rates. Similarly, AWE increased its net 2C Contingent Resources by 44 MMboe, or 57 percent, to 121 MMboe, and the majority of these assets have the potential to be reclassified as 2P within the short to medium term," he said.