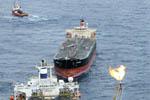 AWE Limited, as Operator of Permits L1/L2 in the Perth Basin, Western Australia, advises that the Senecio-3 appraisal well commenced drilling at 14:30 hours (02:30 pm) AWST on Monday, 4 August 2014.
As at 06:00 hours (6.00am) AWST Tuesday, the well was at a measured depth of 534m and was drilling in a 12 1?4 inch hole to a planned depth of 1,155m in preparation for the installation of the 9 5/8 inch surface casing.
The Senecio-3 well will be drilled vertically to a planned total depth of 2,783m and is forecast to take approximately five weeks to complete. The well is designed to test the unconventional gas potential in the western side of the Senecio reservoir and is targeting the Dongara and Wagina tight sandstone formation. Core samples will be collected and sent for analysis and AWE will not conduct hydraulic fracture stimulation on Senecio-3 at this stage.