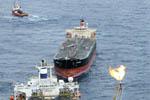 AWE Limited, the Operator of Permits L1/L2 in the Perth Basin, Western Australia, announced initial 2P Reserves and upgraded 2C Contingent Resource estimates for the Waitsia gas field following evaluation of the Waitsia-1 and Waitsia-2 appraisal well results
Managing Director, Bruce Clement, said the data gathered from Waitsia-2 allowed AWE to significantly increase the company's previous estimate of gross recoverable gas and book initial 2P Reserves.
"Waitsia-2 has proved to be another major success for AWE. With three wells now drilled on the Waitsia field, we have sufficient data to increase our estimates of total gross recoverable gas, on a P50 basis, from 290 Bcf of gas to 484 Bcf of gas – an uplift of 67%," he said.