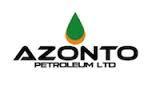 Azonto says that, all conditions precedent having been satisfied, the sale of certain of its Wellhead Equipment in Cote d'Ivoire to Vitol has now also been completed.
Consideration paid by Vitol on completion was the full agreed value of US$1,100,000 (without deduction).
Under the Sale Agreement, Azonto may receive further consideration of US$2,000,000 for the sale of the shares in Vioco upon the occurrence of a hydrocarbon discovery on or before 30 June 2018.