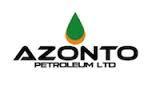 Azonto Petroleum says that the Company's subsidiary, Azonto Petroleum Holdings Limited, has entered into a conditional sale and purchase agreement for the sale of the Vendor's entire shareholding in Vioco Petroleum Limited and certain wellhead drilling equipment in Côte d'Ivoire to Vitol E&P Ltd.
The Vendor holds 35% of the shares in Vioco, which holds an 87% working interest in, and is operator of, the CI-202 Block in Côte d'Ivoire, within which the Gazelle project is located. The Purchaser owns the remaining 65% of the shares in Vioco.
The Company's interest in CI-202 Block is its main undertaking. Consequently, under ASX Listing Rule 11.2 and under AIM Rule 15, the Disposal is conditional on approval of Shareholders. A Notice of Meeting will be sent to shareholders shortly to convene an Extraordinary General Meeting to approve the Disposal.