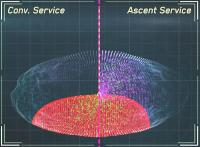 Baker Hughes announced the commercial release of its Ascent™ high-side fracturing service. The Ascent fracturing service increases the conductive fracture area to improve recovery in stimulated wells compared to conventional fracturing techniques. This service incorporates specialized modeling, pumping techniques and proppant technology to create and maintain open fractures above the lateral wellbore.
Unlike conventional fracturing fluid applications, in which proppant often fails to remain in the high-side of the fracture network, the Ascent fracturing service leverages advanced modeling and strong, ultra-lightweight proppant technology with a specific gravity near that of water.
The Ascent fracturing service keeps the proppant in place above the lateral wellbore even after pumping has concluded and the formation begins to close, propping open those hydrocarbon pathways and ensuring access to more potential production—even in formations with extended closure times.