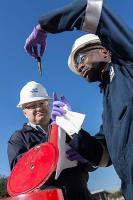 Baker Hughes has announced the commercial release of its TRETOLITE™ SNAP fluids separation technologies, designed to help oil and gas operators maintain dry oil and good water quality, while also stabilising operations and reducing costs—without limiting production—to improve overall profitability. This next generation of chemical solutions includes water clarification and demulsification technologies that deliver improved performance in multiple production applications, including steam-assisted gravity drainage (SAGD) facilities, as well as conventional and other unconventional onshore and offshore fields.
For SAGD producers, fluids separation is vital to the success of their operations because the recovered water must be clean enough to reuse in the thermal recovery process. The water is used to generate steam for injection into the well to heat the extremely heavy oil. These operators often are forced to compromise profitability to get in-spec oil and good quality water. TRETOLITE SNAP technologies help minimise oil-in-water (OIW) levels to improve water quality for reuse, reducing heat exchanger fouling and related equipment cleanout expenses. The new products also help lower basic sediment and water (BS&W) content in the oil to decrease recycling and slop oil trucking, which translates into additional operational efficiencies and cost savings. TRETOLITE SNAP technologies enable SAGD producers to increase profitability by getting a more controlled oil/water interface that improves production volumes and throughput capacity.
Operators also experience oil and water separation challenges in other unconventional and conventional onshore and offshore applications where they are required to meet regulatory specifications for both in-spec oil and water disposal/discharge. TRETOLITE SNAP technologies help to more efficiently lower OIW and BS&W levels to ensure regulatory compliance and to minimise oil losses due to high OIW content. Operators may also attain a tighter oil/water interface with these new products, which helps reduce slop oil production and improve overall oil and water separation.
"TRETOLITE SNAP technologies have proven to deliver improved performance to meet and exceed our customers' KPIs at lower operating costs, resulting in additional value and savings for their overall operations," says Melissa Law, Vice President, Chemical and Industrial Services for Baker Hughes. "With more than 100 years in the fluids separation business, Baker Hughes leverages global knowledge and understanding of the synergistic effects of demulsifiers and water clarifiers to deliver targeted solutions for each operator's 's specific operational needs."
In a recent Canada application, a SAGD producer was experiencing heat exchanger fouling that increased operational costs beyond profitable margins. Baker Hughes applied a TRETOLITE SNAP water clarification treatment program, which exceeded the incumbent product's performance by reducing OIW at the free water knock out by 58 percent and BS&W at the treater by 53 percent. The operator also was able to reduce the generation of skim, slop oil and off-spec recycling streams. Since implementing the TRETOLITE SNAP treatment program, there have been no heat exchanger fouling issues. The operator estimates annual savings of USD 3.8 million by switching to this program.
TRETOLITE SNAP fluids separation technologies are the latest example of Baker Hughes' strategy to improve well efficiency, optimise production and increase ultimate recovery.