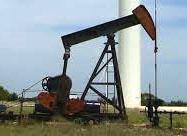 Baron Oil says that crude oil production from the Nancy#1 well (which had been running at 400 bbls per day) was temporarily shut-in over the Easter weekend as the crude oil storage facilities located in the field area are now full.
Evacuation by tanker of the Company's produced crude oil had initially been interrupted by a request from Ecopetrol to suspend deliveries until they resolved certain internal issues at their delivery depot.
In addition, and quite separately, the local community group living around the field have blocked the Company's only exit route from the field and are requesting maintenance work be carried out on the key bridge that crosses the Acae river.