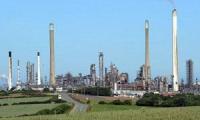 Bayport International Holdings have entered into a Joint Venture with JFK Oil Terminal Corporation on a 6 acre energy facility in Berwick, Pennsylvania.
The project is to include strategic acquisitions, mutual development of JFK terminal and oil fields and natural gas and oil fields service contracts. JFK and Bayport will share on a 50/50 basis revenues from all such projects associated with JFK Terminal Project as well as any future joint ventures between the two companies.
Director Clay Franks said, "This joint venture brings another facet to Bayport International Holdings. Bayport is very excited to JV with Oil & Gas Companies such as Downhole Energy, LLC and JFK Oil Terminal."
Mr. Franks added, "In the last two quarters of 2014 we have become cash flow positive as small public company while at the same time we reduced overhead. Management would like shareholders to know with the upcoming acquisitions and fulfillment of an aggressive oil and gas acquisition plan we will continue to add toward our bottom line in revenues and cash flow status."