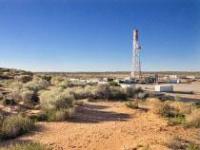 Beach Energy Ltd provides an update on the Nappamerri Trough Natural Gas program in ATP 855 and PRLs 33-49 (ex-PEL 218).
ATP 855 (Beach 46.9% and operator, Icon Energy Ltd 35.1% and Chevron Exploration 1 Pty Ltd ('Chevron') 18%)
The joint venture completed fracture stimulation of the final three wells of a four-well program in November 2014.
The Etty-1 vertical well was stimulated over four intervals, one in the Daralingie Formation and three in the Toolachee Formation. The well cleaned up to a peak flow rate of 0.9 MMscfd and was shut-in on 15 January 2015 having achieved flow test objectives. Immediately prior to shut-in, Etty-1 was flowing at 0.7 MMscfd through a 24/64' choke with wellhead pressure of 405 psi. Gas analysis indicated approximately 70% methane and 30% CO2.