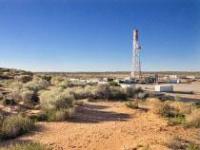 Cooper Energy Limited says that Sensation-1, an oil exploration well located in PRL 98 on the western flank of the Cooper Basin, South Australia, has been spud Monday May 18 at 00:15 hours.
At 06:00 hours this morning, the rig was drilling ahead at 203 feet (62 meters) in 12.25 inch surface hole. The Sensation-1 well location is 1.8 miles (2.9 kilometers) north of the Callawonga Field. Sensation-1 is being drilled to a total depth of 6,309 feet (1,923 meters) in the Merrimelia Formation and is anticipated to be completed within 8 days.
The primary target of Sensation-1 is the Namur Sandstone, which is the oil-bearing reservoir in several fields in PEL 92 (Callawonga, Parsons, Windmill). The secondary targets of Sensation-1 are the McKinlay Member, Birkhead Formation and Poolowanna Formation, which are oil-bearing in several PEL 92 fields (e.g. Callawonga, Christies, Sellicks). The drilling of Sensation-1 will conclude the current three well drilling campaign. The previous wells, Callawonga-10 and Callawonga-11 recorded development and appraisal successes.