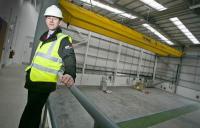 Bibby Offshore has further expanded its operations in Westhill, Aberdeenshire, with the opening of a purpose built workshop and warehouse facility this month.
Named, The Hangar, the building has been leased for 15 years and has in excess of 50,000 square foot, including storage, workshops, warehouse, office space, a yard and maintenance facilities.
In addition to the lease agreement, the firm has further invested in the facilities; fitting it out with a 16 tonne Gantry Crane, and five separate workshops for various specialties including fabrication, hydraulics, electronics, dive hats and diver umbilical's. The Hangar allows Bibby Offshore to have full control of these functions, which was previously outsourced.