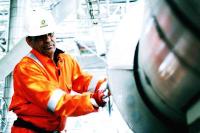 Bilfinger Salamis UK, provider of asset life extension services, has been awarded a five year contract, with two one-year extension options, for international energy company TAQA for its oil and gas operations in the UK North Sea.
Under the contract Bilfinger Salamis UK will provide a range of fabric maintenance support services on all of TAQA's UKCS assets, including: scaffolding, insulation, coatings, passive fire protection, specialist cleaning and rope access.
Bilfinger Salamis UK also deliver inspection services on TAQA's assets, having been awarded a contract for the provision of inspection enactment services by the operator in November 2014.