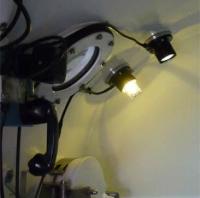 BIRNS, Inc. has introduced an innovative new mounting option for its popular lines of Doubly-Safe and General-Area Chamber lights—the BIRNS Chamber Light Magnetic Base Mount. This powerful chrome-plated magnetic base allows easy installation and repositioning of all BIRNS chamber lights on curved or flat metal surfaces.
The mount is designed for use in all pressurized HeO2-atmosphere PVHO chambers, from submersibles, diving bells and personnel transfer capsules to decompression, recompression and hyperbaric chambers.
The low profile BIRNS Chamber Light Magnetic Base Mount has a 4.90'' diameter, and a height of .49'', making it ideal for systems with space constraints. The round ceramic-8 ring is comprised of highly magnetized castings, providing a powerful magnetic field. The base has two integral bolts and acorn nuts to safely secure the chamber light.