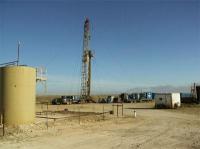 Blackbird Energy Inc. has closed the previously announced acquisition of two sections of petroleum & natural gas rights comprising a total of 1,280 acres located in Bromhead in South East Saskatchewan.
The Bromhead Project was acquired from Weyburn Energy Ltd. ("Weyburn") through Blackbird's wholly-owned subsidiary, Ruger Energy Inc., for total cash consideration of $52,000. The Acquisition provides Blackbird with a 100% working interest in two sections at an average cost of $26,000 per section, subject to a 6% non-convertible Gross Overriding Royalty ("GORR") with a maximum of 25% deductions in favour of Weyburn and a 2% GORR in favour of Ralco Ventures.
Garth Braun, President and CEO of Blackbird stated, "The Bromhead acquisition continues our strategy of originating projects we believe to have strong economics. We currently expect to develop the Bromhead Project in the near-term through the completion of a re-entry program in the fourth quarter of 2013."