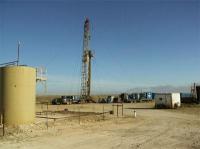 Blackbird Energy Inc. is pleased to provide an operational update regarding its drill program at Elmworth and the significant progress made regarding infrastructure and tie-in.
Drilling Operations & Strategy
Blackbird is pleased to announce that it has received a drilling license for its third well and will now commence its previously announced 2015 drilling program. Spud of the third well is anticipated to occur on or before September 30, 2015.
Drilling Location
After evaluating two drilling locations, Blackbird has decided to spud its third well on the western portion of its lands from surface location 10-8-70-7W6 to a westerly sweet spot at location 2-20-70-7W6. This location was chosen after extensive evaluation was completed with regard to proximity to infrastructure, potential tie-in cost reductions and the geological delineation of Blackbird's lands by both competitors and Blackbird's 6-26 and 5-26 wells. The third well will exploit what management believes is an over-pressured, high free condensate sweet spot, that will de-risk up to 25 sections of Blackbird's lands.