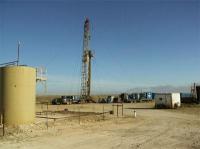 Blackbird Energy Inc. has increased its Elmworth (Greater Karr) Montney acreage to 31 sections of land (19,840 acres) including 27 sections of land (17,280 acres) that are contiguous (100% WI).
The 31 sections of land at Elmworth acquired to date followed a detailed technical assessment of the region that included a petrophysical evaluation of pre-existing wells and the mapping of oil and gas in place across what Blackbird believes to be an area characterized by superior liquids-rich gas potential.
The results from a recently drilled competitor well, located less than 8 kilometres (5 miles) from the Blackbird lands, demonstrated exceptional deliverability from the Upper Montney.