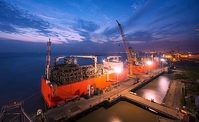 EXMAR has announced that its FSRU (Floating Storage and Regasification Unit) barge delivered end of 2017 has left the Wison Offshore Marine shipyard and is on her way to Singapore.
There the unit will undergo site specific modifications before departing to its project destination to commence its long-term employment mid-2018 in line with its time charter commitments.
This is an important step in the successful implementation of the barge-based regasification strategy of EXMAR. The FSRU is the first, new built regasification barge in the world, built on a speculative basis by EXMAR, and the FSRU was able to obtain a long-term contract prior to her delivery from the yard.
EXMAR will release more information on the charterer and the location at a later stage.